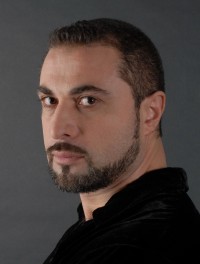 The Swiss-Argentine countertenor Martín Oro was born in Buenos Aires. He studied the viola which he perfected at the Tchaikovsky Conservatory in Moscow with Yuri Bashmet. Having decided to devote to singing he graduated with honours from the Conservatoire de Fribourg, Conservatoire de Neuchâtel as well as at the Schola Cantorum Basiliensis, in Switzerland.
Martín Oro is a versatile countertenor able to handle sacred, heroic or humorous roles with ease. His repertoire ranges from Baroque to Britten to contemporary music.
As recognition of an international level as being one of the most significant countertenors, Martín Oro was awarded the Velluti Prize in Italy and the Network Kulturpreis in Switzerland.
He has sung alongside soloists as Cecilia Bartoli, María Bayo, Sara Mingardo, Jennifer Larmore, Philippe Jaroussky, under conductors such as Rinaldo Alessandrini, Nikolaus Harnoncourt, Mark Minkowski, Alessandro De Marchi, Jean-Christophe Spinosi, Christophe Rousset, René Jacobs, Christophe Coin, Jordi Savall, Joshua Rifkin, Michel Corboz, W.Kuijken, Paul Goodwin, Gabriel Garrido, Eduardo López Bánzo, Peter Neumann.
Among the roles he sang: Orpheus in Orfeo ed Euridice by Gluck; Ottone, Arnalta and Anfinomo in Monteverdi's L'incoronazione di Poppea (Buenos Aires/Teatro Avenida, Teatro Massimo in Palermo, Liceo de Salamanca), Il Ritorno d'Ulisse in Patria (Zürich Opernhaus) and L'Orfeo (Teatro Strehler in Milan, Edinburgh Festival); Tolomeo in Giulio Cesare (Zürich Opernhaus), Dardano in Amadigi (Teatro Olimpico in Rome), Nireno in Giulio Cesare (Cité de la Musique de Paris), Dydimus in Theodora (Opéra de Montpellier), Joad in Athalia (Teatro Colón de Buenos Aires), as well as  Hamor in Jephta (with Helmut Rilling) by Händel; Fedra in Arianna by B.Marcello (Stadt Theater Basel), Oberon in A Midsummer Night's Dream by Britten (Opéra de Fribourg), Fernando in Don Chischiotte della Mancia by Conti (Liceo de Salamanca), Emone in Antigona by Traetta (Stadt Theater Biel),  Grifone in Orlando Finto Pazzo and Aristea in Olimpiade by Vivaldi (Théâtre des Champs Elysées, Teatro Regio in Torino).
For the opening of the 2007 Maggio Musicale Fiorentino, he sang in the world première of the opera Antigone by Ivan Fedele led by Michel Tabachnik and directed by Mario Martone (Abbiati Prize of the Italian Music critics 2007).
He performed again at the Maggio Musicale in Florence in the new production of Phaedra by Hans Werner Henze, role Artemis, led by Roberto Abbado (Abbiati Prize 2008).
Martin Oro made his debut in Milan at Teatro alla Scala in L'Orfeo led by Rinaldo Alessandrini, director Robert Wilson; with Rinaldo Alessandrini he has also recorded for Naïve Vivaldi's Armida al Campo d'Egitto / Tisaferno with concerts in Paris and Wien. He sang in Pisa Teatro Verdi Le disgrazie d'amore by Cesti directed by Stephen Medcalf with Hyperion recording.
He appeared in Lisbon in Händel's Messiah with Orchestra Metropolitana, in Maddalena ai piedi di Cristo by Caldara under Enrico Onofri, Antigono / Alessandro by Antonio Mazzoni in world premiere with Orchestra Divino Sospiro under Enrico Onofri and  Actus Tragicus by Bach again with Divino Sospiro conducted by Kenneth Weiss. He was then in Santiago de Compostela in Spain for Orlando Furioso  by Vivaldi with Andrea Marcon, Alcandro  in L'Olimpiade by Pergolesi in Innsbruck, Festwochen der Alten Musik, with a tour in 2011 in Torino and at Theater an der Wien, where he also sang  Giuditta by Alessandro Scarlatti with Rinaldo Alessandrini.
He has also an intense recital activity.